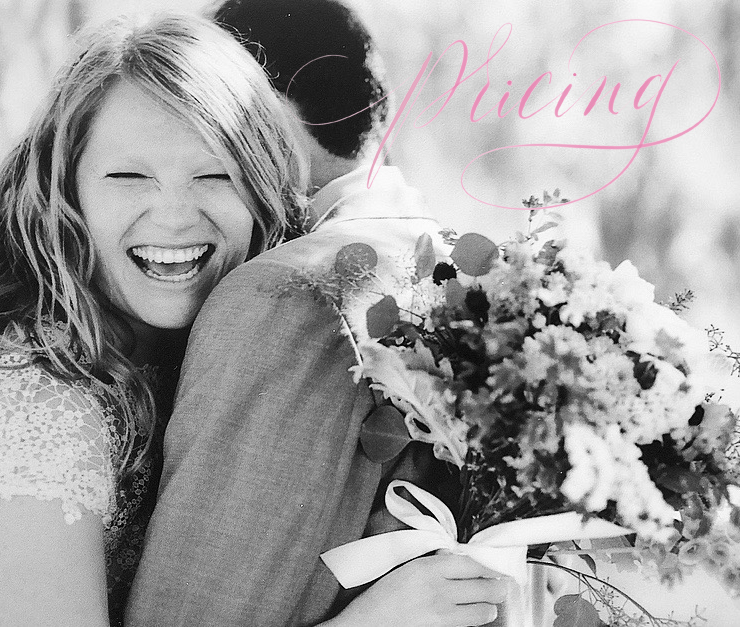 I work hard to keep my pricing competitive, while also in line with the level of service and quality I intend on delivering to you.
Please keep in mind that there is a great deal of time involved in completing your work that is over and above the actual lettering. Communication with you on style, ink, and pricing, putting together quotes, printing out your address list and getting it in good order, time spent experimenting with nibs and inks to find the combination that works best on your envelopes, proofreading, packaging for shipping, billing, and hand delivering your precious cargo to FedEx is all part of the job of delivering to you the service and quality I want you to experience! I also assume, based on 10 years of experience, that there will likely be a few emails along the way with changes, additions or corrections to your list. All of this is the reason I have established minimum orders....it takes the same amount of time on much of this work whether there are 5 envelopes or 500!
I have worked with brides for nearly a decade in all parts of the country, and even a handful of international clients....weddings in Canada, Australia, London, and Italy. I have never missed a deadline, and to my knowledge never disappointed a bride in any way. I try to go above and beyond, and I pride myself on very timely communications. I often send updates along the way, and even photos of your work in process. As a bride or mother of the bride, I know you are likely in the midst of a busy and stressful journey. I see my job as making the invitation experience as stress free and as easy for you as possible.
I would be honored to work with you!
Kristen
There is a $250 minimum for addressing envelopes, and a $100 minimum for lettering escort cards, place cards and/or table numbers if they are stand alone projects. Minimum charges are waived if I have addressed your envelopes.

10% additional for metallic inks.
10% additional for opaque envelopes. (either due to liners or dark colors)
$20 charge for mixing custom ink color.
$3.75 each
Includes 3-line address plus zip; .75 cents each for extra lines. (Examples: Apartment # spelled out on separate line, 2 people with different last names on same invitation, separate line for children's names, etc.)
It is far more cost effective to have the return address printed rather than hand lettered on the back flap of the outer envelope and on the front of the return envelope. I highly recommend it!
(1 name only): $1.65/name
(name plus table number): $1.85/name
I bill shipping at cost, with a standard minimum of $20 to cover the processsing, and packaging time and materials. I ship via FedEx Ground, and packages are automatically insured for $100. I include extra insurance and/or signature required only upon request. The cost for insurance is approximately $2 for every additional $100 over and above the $100 coverage including in your base shipping price. If you declare over $499 in value, a signature is required upon delivery. I send you the tracking # when I ship.
My goal is 100% accuracy, and all of your work will be proofread, but I am human! I ask that you check over everything as soon as it arrives so that you can ensure it is all correct. I will, of course, correct any of my errors at no charge, and pay in full for shipping them to you! Any additions or corrections on your part once the job is completed will be charged at normal rates, but with a minimum charge of $15 plus postage (Why? Because it takes the same amount of time to set up and clean up, bill and ship whether I am doing 1 envelope or 100!) If the redos are a combination of my errors and your additions/corrections, I charge you only 50% of the shipping cost.